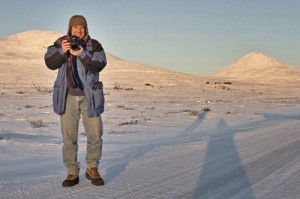 I use photography to explore the borderlands between fiction and reality. My personal interest in perception, spirituality and mysticism have inspired and informed my artwork since the mid-1980s. Drawing on 19th & 20th century ideals and enthusiastically embracing 21st century techniques, I strive to create beautiful prints of strong, quiet images – intended to remind us that moments of perfection are possible, in photography, and in our lives.
My pictures have been exhibited widely, acquired by collectors worldwide, and have appeared in thousands of publications (including articles in "Fotografi," Norway's premiere photo magazine, and the Houston Center for Photography's journal: "Spot"). Solo exhibitions include: "The Vintage Series: Scientific Inquiries;" "Classical Landscape Photography and the Digital Darkroom" (seen by more than 100,000 visitors at the Fernbank Museum in Atlanta, Georgia); "Seeing Is Believing" (the first solo show by an American artist at Oslo's "Fotografiens Hus" gallery); and "Vestiges of Industry."
In addition to making fine-art and commercial work, I'm well-known as a teacher whose workshops, seminars, and one-on-one instructionals demystify digital and empower students to realize their own photographic vision. I'm proud to have taught for: Adobe; Apple Computer; ICP in New York; the Maine Media Workshops; the Santa Fe Workshops; Fuji USA; Anderson Ranch; the Norwegian Fotografiakademiet; and many others.
I'm from Brooklyn… three generations on both sides of the family. In fact, my wife Carol and I live in the neighborhood I grew up in. (Our grown-up daughter, Cally, has a place of her own now, on the other side of the park.) I'm continually adding images to several ongoing bodies of work, developing ideas for teaching and workshops, and focusing on my own spiritual and photographic growth. I have also served on the Board of Directors of Shalom Mountain, Inc., a non-denominational spiritual retreat center in the Catskill Mountains. If you need to get "un-stuck" it's the best place I know.
Finally, in case you were wondering, my name's pronounced "Gene" – but I'd like it if you'd call me Gino. ; )
If you're interested in learning more about what makes me tick, here's an interview I did for RfotoFolio, and another interview I did with the nice folks at Pacific New Media in Honolulu. Check 'em out!