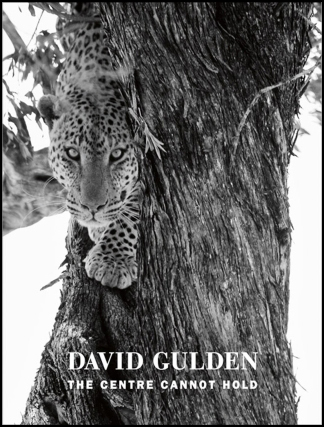 My friend David Gulden's book The Centre Cannot Hold has some of the most beautiful black-and-white photographs of Africa – ever. Make no mistake, though. These aren't "safari" photos. And the focus of this book isn't David's photography (although it's amazing), nor is it the animals (although his pictures of lions are like Avedon portraits). This book is about a world unto itself… and one that may not be long for this world.
Between climate change, population growth, political shortsightedness and the march of time in general, we're all in trouble. Add poachers to the mix, and it's even worse. Some of us are lucky enough to find the place where our heart is, though – and to fight for that place. David's one of those people. He pretty much splits his time between Kenya & New York, and the photos in this book represent decades spent in the bush – in jeeps, tents, and treetops.
I think this is a book we all need to own. In fact, I'm delighted to have a (signed!) copy myself. I'm also more than honored that the little bit of technical assistance I provided rated me a mention in the credits. Thanks, David! Keep up the amazing work.
Check out the 1-minute video below, of David talking about his jeep being charged – and hit! – by a black rhino.